Case Studies
History
Back in 1977 the Miami/Bahamas Goombay Festival was an idea of Miami public relations professional Herb Hiller when he was retained by Norwegian Caribbean Lines to consult on their new services to the Bahamas. Hiller lived in Coconut Grove and learned of its early Bahamian roots in the founding of Miami. He began pulling people together to assist and the first Miami/Bahamas Goombay Festival happened the first weekend in June 1977, the same weekend NCL began its Miami - Bahamas service. NCL transported the Royal Bahamas Police Band to Miami along with straw vendors for the festival. Two years later Coconut Grove leaders incorporated Miami/Bahamas Goombay Festival with the State of Florida in April 1979.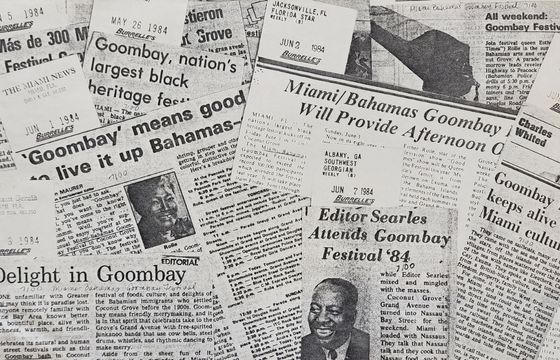 The public relation firm of Susan Neuman, Inc., began working with Goombay in February of 1984, and continued for over 20 years. While the initial assignment was primarily for public relations and publicity, fundraising through sponsorship development and grant writing quickly was added to our firm's responsibilities. Annual grants and sponsorships soon produced six-figure annual incomes for the festival which, in addition to vendor fees and donations, allowed the festival to grow not only in size but, most importantly, in quality. It was soon honored and named the largest black heritage festival in the U.S. in 1994 and drew national and international coverage and acclaim.
Its festival kings and queens highlighted successful blacks in sports and entertainment, starting in 1984 with Emmy Award winner Bahamian actress Esther Rolle and later including Olympic Gold winner Bob "Bullet" Hayes and Grammy-award winner Soul and R&B singer Betty Wright; multi-Emmy Award winner actress-singer-comedian Marla Gibbs; and Director- actor- comedian- writer Robert Townsend among others. More than just a street festival with quality entertainers, it had expanded to include an annual international sailing regatta, annual golf tournament, a scholarship pageant, a theatrical production, a bush medicine educational program, and many other events during the summer festival. In off-festival times the committee sponsored a Christmas event and awarded west Grove residents for outstanding holiday decorations, among other events in the community, often serving youths.
My personal best achievement for this client was assisting the organization in obtaining a property to be used for Goombay's headquarters which would be created into a permanent history museum of Bahamians in Miami. The house, an original Dade County pine structure built probably in the early 1900s, would showcase how Bahamians lived in a then-segregated Coconut Grove. We obtained a county grant and pro bono attorney to apply for tax exempt status. It would have a yard of native plants used by Bahamians for bush medicine in a time when doctors were seldom available for blacks. We had already obtained a state grant and published a pamphlet on bush medicine. The Bush Medicine outdoor tour would be unique. This museum was a goal of Billy Rolle (died 1998) and his wife, Frankie (died 2014), who were among the visionaries/leaders of the Goombay Festival during this time. I was pleased to be part of making their vision for a permanent museum come true.
Our firm's quality productive work brought in other clients including the annual Florida A&M Rattlers' Orange Blossom event; the international production of Contract Voices performed in Miami and Nassau directed by and starring Bahamian native Calvin Lockhart, an international star of stage and screen; the Coconuts Festival and others.